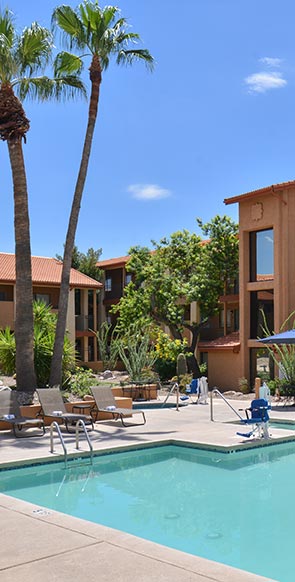 TUCSON LOGDING BLENDING DESERT WARMTH WITH A RICH CONTEMPORARY AMBIANCE
Tucson weather is considered to be and arid desert climate because temperatures are mild in the winters and very hot in the summers. Visitors to the area may want to check the weather forecast in Tucson ahead of time to know what type of climate to expect during their stay. Weather may permit certain activities, tourist attractions and flying conditions, thought Tucson weather is generally mild most of the year, allowing residents and visitors to enjoy indoor and outdoor activities. Our Tucson weather page provides a 7-day weather forecast in Tucson to make it easy on guests seeking this information.
When planning your stay at 3 Palms, it's a great idea to check the weather forecast in Tucson for the dates you'll be visiting. Not only will it help you pack the appropriate attire for your stay, but it will give you an idea of what type of climate to expect. Tucson weather changes throughout the year, so depending on when you'll be traveling, you may opt for a car service rather than a trolley to take you to and from the airport. Make sure you choose the best options when packing and planning your transportation based on the current Tucson weather to ensure you remain comfortable throughout your time here.
Checking the Tucson weather while planning your trip is helpful when figuring out which activities you'll want to partake in during your time here. Events are happening year-round in the Tucson area from art festivals to farms markets, and it's a great idea to not only check the events calendar when planning your trip, but also checking the weather forecast in Tucson. Being prepared will allow you to choose your preferred attractions, locations and leisurely activities to partake in based on the climate.